The Necromancer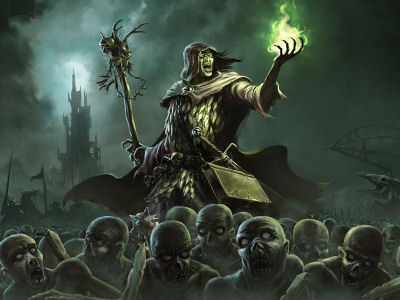 [Raise the Dead]
At the realms conception, before anything even began, Denadlyr planned the introduction of the class of wonders. Known as the mage, its guildhalls were filled with scholars, the most intelligent of Serin's inhabitants, a group that shunned the use of physical force to master the potential of the mind. Their spells were versatile, and once a mage reached his pinnacle, were powerful enough that even the warrior feared them. Magic became the most influential force in battle, and mages were later integrated into each army in the grand conflicts, proving indispensable with their both harmful and beneficial spells.
The Great War which scarred Serin pitted mage against mage, and resulted in much bloodshed and weakening of the arcane. After the war was burned out, and the weakened magi retreated to rest, Denadlyr stepped into their council to punish their foolishness, for his gift was intended to unify, to enrich and amuse, and for defence, not to harm, maim and kill. An entire group of their members was cast out from the society completely, for their meddling with the forbidden sphere. Finding the embrace of Kallomar, this group of mages then turned their arts fully to the undead, and they were cursed to live as evil, and the necromancer guildhall was formed. Though Kallomar was destroyed, other evil immortals allow them the right to channel magic.
Necromancers are the mages of unlife. They have turned their studies to the manipulation of the dead, and to the capturing of souls that have not yet left the body to return to the Ether. A necromancer can turn inanimate chunks of material into golems, and the corpses of the dead into zombies, to serve a mindless slave. Though their abilities are derived from the Ether like all magic, they are considered forbidden, black magic, for its evil intent. At the peak of their powers, necromancers learn the ability to command the living to die, with a point of a finger.