The Invoker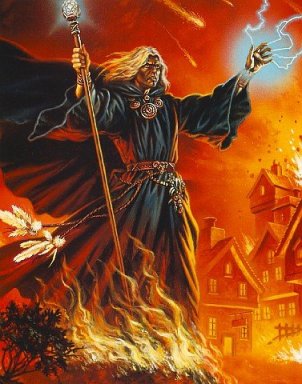 [Summon the Arcane]
At the realms conception, before anything even began, Denadlyr planned the introduction of the class of wonders. Known as the mage, its guildhalls were filled with scholars, the most intelligent of Serin's inhabitants, a group that shunned the use of physical force to master the potential of the mind. Their spells were versatile, and once a mage reached his pinnacle, were powerful enough that even the warrior feared them. Magic became the most influential force in battle, and mages were later integrated into each army in the grand conflicts, proving indispensable with their both harmful and beneficial spells.
The Great War which scarred Serin pitted mage against mage, and resulted in much bloodshed and weakening of the arcane. After the war was burned out, and the weakened magi retreated to rest, Denadlyr stepped into their council to punish their foolishness, for his gift was intended to unify, to enrich and amuse, and for defence, not to harm, maim and kill. He split their guild into two new halls, and cast out the ones that disgusted him. Of the two new guildhalls, one was granted the ability to channel the sphere of elemental magic, the most volatile of the arcane.
Known as the invokers, for their ability to invoke the elements, these magi learn to produce streams of damaging elemental magic, ranging from flame arrows to storms of ice. They also may manipulate and create matter, making swarms of meteors and imbueing weaponry with magical enhancements. They are also the pioneers of the famed sanctuary spell, one of the many kinds of protective shields an invoker learns to invoke. At their peak, an invoker learns to tap into the arcane, creating a vast beam of light capable of devastating anything in its path.
An invoker is able to specialize in an element. This changes their abilities somewhat.