The Paladin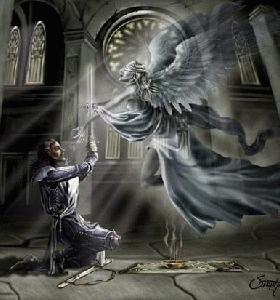 [Smite the Wicked]
During the period of Alliances, uprisings and power struggles between the forces of evil and all others, leaving death and destruction in its wake. An evil group that had forsaken their guilds, named the Eternal Army, ruled the lands by combining rigorous physical and magical training with a strong central leadership that drew from the combined powers of all its members. As their wrath raged across Serin, they pillaged and destroyed anything in their path that would be unable to stop them, slaying the innocent and the clergy alike, to stamp out anything that would oppose them.
Having taken terrible losses from the relentless attacks, the surviving elders of the clerics of Light formed a council to deliberate how to defend against the onslaught. After much thought, and prayer, they decided that the Light should need its own warriors, for the simple warrior alone, while mighty on the battlefield, could not defend well against the magical attacks that supplemented it. With the blessing of Sarich, a new guildhall was created, devoted to the extermination of all evil. The guild of paladins commanded the wrath of the heavens themselves, and in a matter of weeks had wiped the Eternal Army completely out.
Paladins are the embodiment of goodness. They are holy warriors, empowered by the gods of Light to bring and safeguard goodness throughout the realm. They are noted for their chivalry, kindness, generosity, mercy and honor. A paladin is a pillar of Light for its followers to look towards. To aid them in their heroic fight, they learn an array of weapon styles, and are able to heal many plagues and illnesses through their faith. They are also endowed with healing powers to grant help to the needy. At their prime, a paladin calling forth the wrath of the heavens themselves is a deadly foe for any evil adversary.